Things to Do in Ko Yao Noi: The 12 Best Places to Visit (All Highlights)
You're planning to visit Koh Yao Noi during your next trip to Thailand and you're looking for the best things to do?
You're at the right place!
This small island in the Andaman Sea is the perfect destination for a quiet and relaxing holiday away from the hustle and bustle of its neighbour, Phuket.
In order to help you plan your stay, I have prepared this guide of the 12 best things to do in Koh Yao Noi, with all points of interest and must-see attractions.
In addition to this list of things to do and activities, I will also give you itineraries to visit Koh Yao Noi in 1, 2, 3, 4, 5 days (or even 1 week!) as well as my selection of the best accommodations depending on your budget.
So, what are the best things to do in Koh Yao Noi? Where to stay?
Visit Koh Yao Noi: All Must See attractions
1. The most beautiful beaches of Koh Yao Noi
The name Thailand inevitably means beautiful beaches! And Koh Yao Noi is no exception.
So, what are the beaches you should not miss when travelling to Koh Yao Noi?
Potsai Beach: great beach for swimming and not very crowded. There is also a nice viewing point on the hill just above. It offers a superb view of the islands facing the beach.
The beach that starts from the Koh Yao Seaview Bungalow (it has no name): very beautiful beach with fine sands, ideal for swimming. There are no rocks in the water, unlike some other beaches on the island.
Klong Jark Beach (between the Holiday Resort and the Koyao Island Resort ): the beach offers a beautiful view of the islands. however, there are lots of rocks, so it is not too good for swimming.
The Pasai beach (also called Sor Ngam Beach), with by many bars and restaurants, is one of the most popular on the island. However, it is far from being the most beautiful and even less so the best place to swim because there are many rocks and stones.
Laem Kor beach: a very quiet beach (there was no one there when I went there) but lots of rocks and soil.
Long Beach, to the North East: very nice beach with a small mangrove and a small restaurant. Very good for swimming and spending some down time. As some parts of the beach are separated by trees, you will feel like you are the only person in the world!
Luild Beach (or Little Long Beach): very pretty too, bigger than Long Beach and very quiet and wild.
To the north-west of the island, after having passed a part of the mangrove, you will find several small strips of very fine sand with a view of the islands. Also very nice for a refreshing swim.
Voyage Tips - Advice
The differences between high and low tides on Koh Yao Noi island are truly impressive. The sea stretches over more than 330 feet, so it is impossible to swim on some beaches because there are only stones left.
For swimming, the Koh Yao Seaview hotel beach is really the best option: even if you will have to walk quite a bit to get to the water at low tide, it is largely feasible because there is only sand.
Plan a stay in Koh Yao Noi in a hotel with a swimming pool pour pouvoir vous rafraîchir en période de marée basse. Je vous ai sélectionné les meilleurs un peu plus bas dans cet article.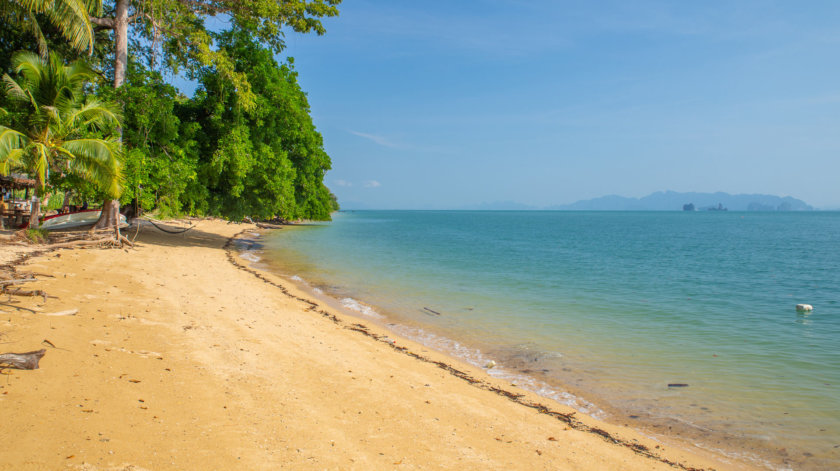 2. Tour the island on a scooter
The best way to visit Koh Yao Noi is to rent a scooter.
The island is small and you can go around it in one day. You can discover Koh Yao Noi and stop when you want to enjoy the beach, sunbathe and swim.
There aren't really any specific monuments or villages to see, the aim is to enjoy Thai nature while strolling around the island. It feels really good, especially if like us, you are on a tour of Thailand and you arrive from Phuket or Bangkok, which are much more touristy.
As you know when you go on a trip to Thailand, you should not expect to be alone on tourist sites or islands, and some beaches are really crowded, but in Koh Yao Noi, I guarantee you that you will have peace!
You can rent a scooter in most guesthouses and hotels, allow for 300 Bahts for the day. Don't forget to put on a helmet😊. Some of the beaches can only be accessed from rocky slopes, and there is a high chance of falling, especially if you are not used to riding a scooter.
Voyage Tips - Advice
You can end the day in the southern part of the island, towards the Koh Yao Treehouses and the Tha Laem Sai Pier, there are several spots to watch the sun set. et le lieu est vraiment sympa avec les installations des pêcheurs, leurs barques et cabanes colorées.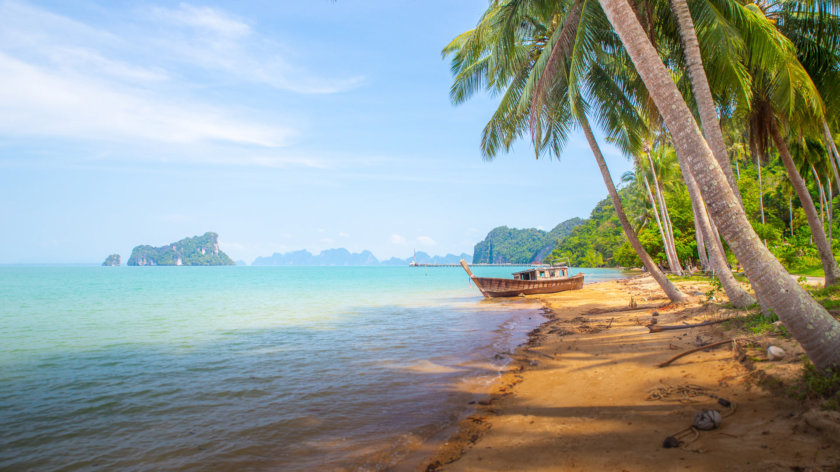 Voyage Tips - Advice
You're going to Koh Yao Noi?
You probably know it: the hardest part of planning your trip is to find an hotel offering a good value for money!
The closer you get to your travel dates, the harder it will be to get a good deal. Lots of people will be visiting Koh Yao Noi on the same dates as you, so you can be sure that the best deals are booked extremely quickly!
Hopefully, there is a pretty simple solution to this problem: do like me and book your hotel as early as possible!
So, my best advice is to take 5 minutes (now) to have a look at the list of travelers' favorite hotels in Koh Yao Noi.
And if you see a good offer, book it!
Most hotels offer free cancellation, so it's quick, easy, and you will avoid the the inconvenience of finding nothing but mediocre rooms at exorbitant prices.
To check the current best deals for your hotel in Koh Yao Noi, simply click on the green button below 😎:
Once you've booked your hotel, it will be time to continue reading this guide and find out more about the best things to do in Koh Yao Noi!
3. Boat trip: 4 islands
One of the main activities to do in Koh Yao Noi is one-day boat trips to discover the small heavenly islands in the surroundings.
There are several such trips, each with different islands on the agenda. And I particularly recommend the "4 islands" trip which is simply the best trip we made during our road trip in Thailand!
During this day trip from Koy Yao Noi, you will discover 4 islands of the Than Bok Khorani national park:
1) Koh Ka Mit: Nicknamed Monkey Island, this island is populated by many monkeys. When the boat arrives, you will see a lot of them approaching, you can even feed them.
2) Koh Pak Bia: a very pretty little island with another big island just opposite. The beach has wooden swings and picnic tables. You can go for a swim and take tons of great photos.
3) Koh Lao Lading: the island can be reached through a cove between 2 rocks. Then you will have some time to enjoy the beach and watch the fish crowding around you.
There is a second small cove accessible via a path on the left but it is not very pretty and there are lots of stones so I advise you to stay on the main beach.
4) Koh Hong: to go to Koh Hong, you will have to pay an entrance fee of 300 Bahts per person (not included in the cost of the trip).
You will then be able to visit this large sandy beach shaped like a double handle, bordered by cliffs. The place is renowned for its snorkelling experiences but you better have shoes or flippers. There are lots of super-sharp corals and sea urchins, and your feet will soon have cuts.
And be careful because the current is strong on the beachfront, it can surprise you and send you on the coral in the blink of an eye!
On the island, you can also take a 10-minute walk in the forest (a natural trail). You may even be able to see Thai varans, but try not to disturb them as they might chase you!
During our break on the beach, we saw 2 people running and screaming from the edge of the trees, followed by an angry monitor lizard. Everyone laughed, but I think they were scared!
On the way back, the boat will take you through the lagoon of the island of Ko Hong, accessible only at high tide. At low tide, it is possible to walk there if you have aqua-shoes.
5) Koh Nok: some tours also include the small island of Koh Nok in the trip. We asked our hotel to add it to the programme! It is considered the best island in the area to see the sunset, so you really must go there.
On the island, you can climb a small hill that offers a beautiful view of the surroundings. On the other hand, the way up there is super steep and you will have to climb using ropes for 10-15 minutes.
Since we only had flip-flops, we did it barefoot, but it is better to bring (good) shoes. Please consider getting back down before it gets dark, otherwise things may not turn out too well!
Finally Koh Nok is the perfect place to organise a romantic dinner on the beach. From what we saw, you can choose a very simple and intimate picnic or the luxury version with tables, chairs and waiters attending to you. Ask your hotel for information about this.
There are also tours to discover only Koh Nok in the evening, without going to the other 4 islands. The cost is 600 Bahts to get there.
For this trip to the 4 islands, we went through our hotel, but all the hotels and guesthouses of Koh Yao Noi offer it. You can make this trip by private long boat tail (the typical Thai boats) for 2500 Bahts.
You can of course divide the costs, you just have to find another couple to share the boat with you. It is best to agree on the timings so that you do not find yourself waiting 30 minutes for them to reach the boat.
The fare includes the return trip by jeep to the port, the day trip to the 4 islands (Koh Nok optional), water and fruits.
Departures usually take place around 9:00am and return at 2:00pm.
Voyage Tips - Advice
If you don't want to find yourself on the islands at the same time as everyone else, you can ask (in case of a private trip) to leave in the early afternoon.
That's what we did and it was really cool to be almost the only ones on the beach. And we could thus end up at Koh Nok at sunset.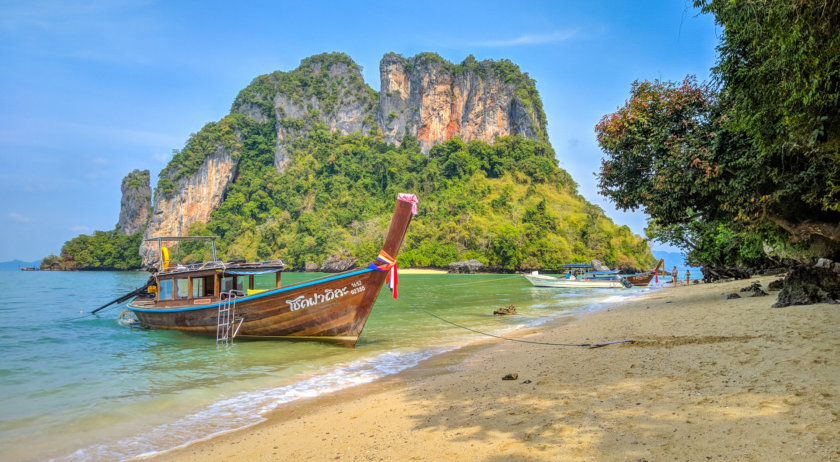 4. Boat trip to James Bond Island
The other unmissable trip from Koh Yao Noi is the one that takes you to discover the islands of Phang Nga Bay, including the famous James Bond Island.
With its numerous karst rocks and small islands scattered all over the place, the bay is one of the most beautiful in the world. It would be a real shame not to go on your trip to Thailand. 
Here are the islands and stops scheduled for this day by boat:
1) Koh Ku Du Yai: stop to take a picture of this cove surrounded by karst peaks with a beautiful beach. The landscape is really beautiful.
2) Bat Island (Ko Roi) where you can observe dozens of these small mammals hanging from the trees.
3) Koh Panak where you will have the opportunity to visit a cave. Otherwise, the boat will take you around the island slowly to see the rocky formations. It's really impressive and also very beautiful.
If you want to land on Koh Phanak, you will have to pay the 300 Baht per person entrance fee to the national park.
4) Koh Hong, where you can visit the caves by kayaking. "Guides" approach you directly by kayak when you go by boat and offer to take you there. Unfortunately, you won't be able to go there alone. It is one of the most touristic places of the excursion, there are kayaks everywhere!
5) James Bond Island became famous thanks to James Bond's film "The Man With the Golden Gun" which was shot here. If you have not already paid in Koh Panak, you will have to pay 300 Bahts to land in the national park.
A path allows you to go near the famous rock and take a picture of it from all angles. There also several souvenir shops on the beach.
However, expect to deal with the crowd when taking your photo, as the place is very touristy. This is the place where I saw the most tourists per square metre during my stay in Thailand!
6) Ko Raya Ring where you can also go kayaking
7) Koh Panyee: a large floating market where you can eat and buy souvenirs
8) A swimming stop on an island (deserted when we were there!)
9) The Big Tree , which is located on Koh Yao Noi island but is only accessible by boat. Stop to take a picture of this tree with a massive trunk.
10) Last photo stop in the fishermen's cove
And voilà, that's your detailed schedule for this one-day boat trip!
You can book this trip at any hotel on the island. We paid 4,500 Bahts in total with the transfer to the port. During the day, you will have unlimited water and fruit.
Departure is around 9 am and return around 4 pm. Here too, you can choose to split the price.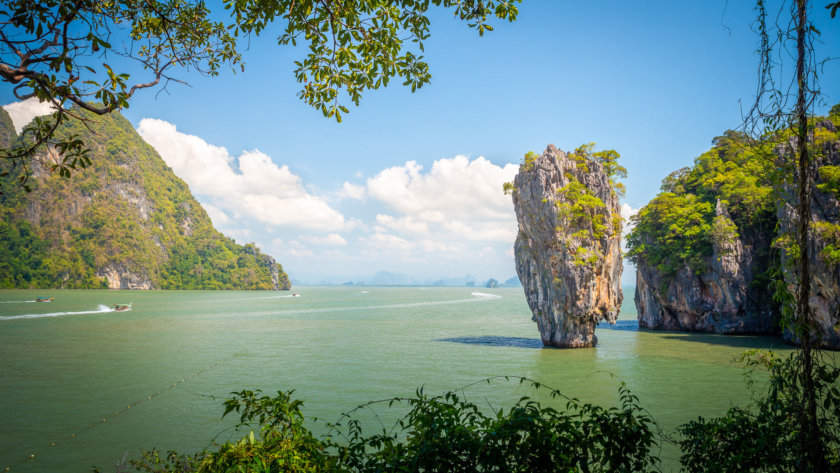 5. Boat trip to Koh Poda
From Koh Yao Noi, you can also go to Koh Poda for a day.
As the island is quite far away, it takes at least an hour and a half by boat to get there.
On this heavenly island with its fine sands and turquoise waters, you can just swim, do some snorkelling and sunbathe. In short, a day of complete relaxation!
As Koh Poda is located in the Mu Koh Phi Phi National Marine Park, you will have to pay an entrance fee of 400 Bahts to access it.
Voyage Tips - Advice
If you are planning to visit Krabi and Ao Nang after your trip to Koh Yao Noi, it is better to go to Koh Poda from there.
The Ao Nang – Koh Poda journey takes only 30 minutes by boat, c'est donc bien plus pratique!

6. Taking a walk at low tide
When visiting Koh Yao Noi, you can take a peaceful stroll.
At low tide, you can take beautiful walks along the beaches, look for the prettiest shells and observe the hundreds of crabs that walk along the beach.
Next to the Koh Yao Seaview Bungalow beach, there's a sandbar where you can swim. And after this little walk, you can just lounge on a deckchair with a good smoothie!
Holidays are a time to relax.😉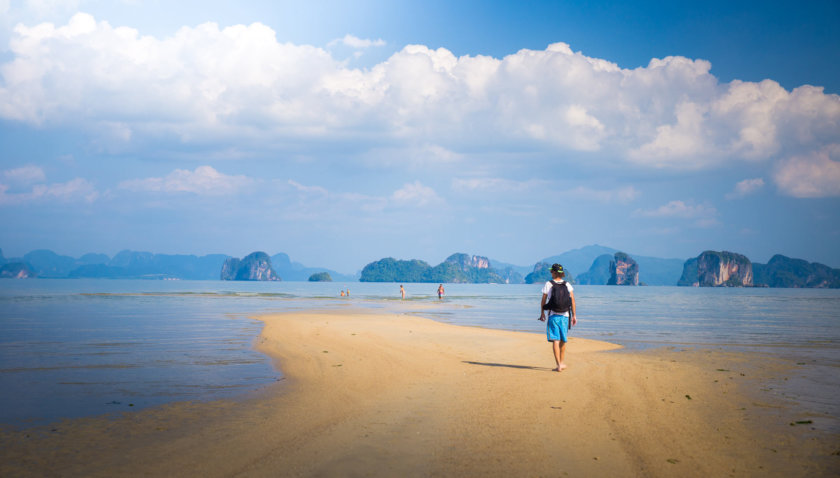 7. Kayaking
A nice activity to do in Koh Yao Noi is to rent a kayak to discover the island from another angle.
A good way to engage in some sport and see beautiful landscapes!
You can use this opportunity to go to the small island opposite the Suntisook Resort beach (that famous unnamed beach). It is located a few hundred metres from Koy Yao.
Once there, you can take a swim before leaving for a stroll.
Those who are more experienced can even go to Koh Nok by kayak, if the sea is not too rough (2.5 km approximately from Pasai beach).
Voyage Tips - Advice
I told you that the tidal variations on the island are significant, so keep that in mind and get back from your kayaking trip before the low tide.
Otherwise, you will to carry your kayak to the beach instead of rowing! And carrying a kayak over 150 metres while sinking into the sand can quickly become a reason for marital arguments! 😅
In any case, I admit it was actually quite fun to watch them struggle ahahahah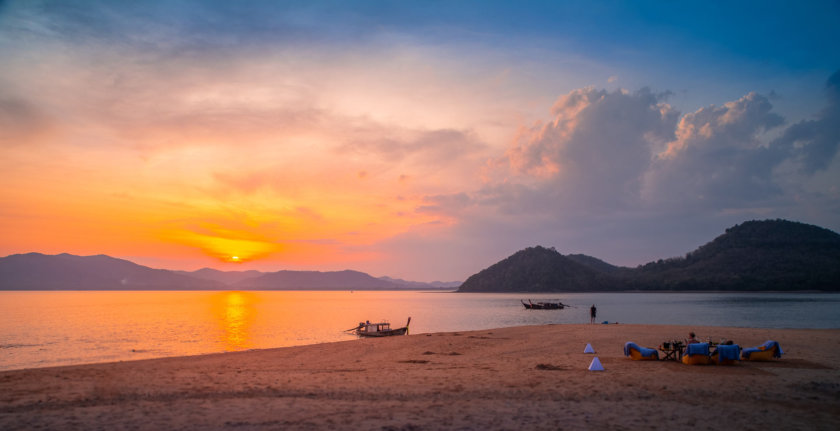 8. Koh Yao Yai
Koh Yao Yai is the neighbouring island of Koh Yao Noi.
And it is even more protected from mass tourism! With less than a dozen hotels, you can enjoy beautiful beaches for yourself.
It takes only 10 minutes by boat to get there. You can then rent a scooter and stop to swim whenever you want.
It is also possible to visit one of the many rubber plantations and observe the latex harvest, the main source of wealth of the island along with fishing.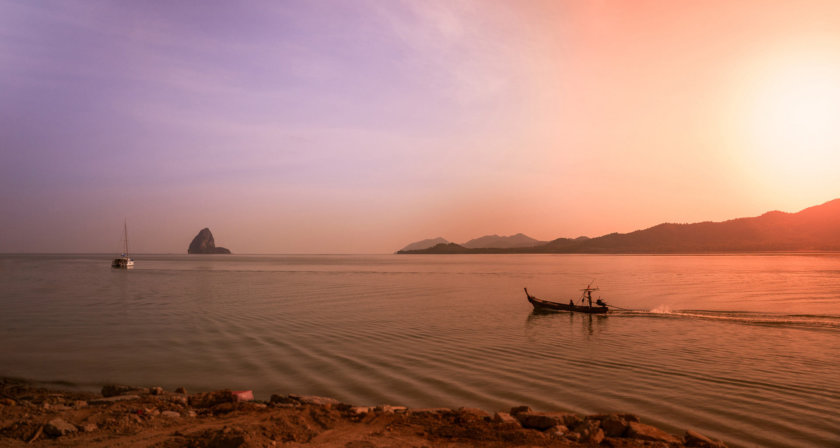 9. Cooking classes
You've been roaming around the island on a scooter, enjoying the beaches, and wondering what else can you do in Koh Yao Noi?
Why not opt for a Thai cooking class?
You must go to Mina's Cooking Classes. Mina is adorable, speaks English and gives classes in her authentic Thai house.
You will even have the choice of several dishes to prepare, including delicious curries or Pad Thai. At the end, you can taste your creations and leave with a small recipe booklet to try and delight your friends when you return.
Two classes are offered: mornings from 10.30am to 1.00pm and afternoons from 3.30pm to 6.00pm. Expect to pay around 1600 Bahts per person with the return trip included from any hotel in Koh Yao Noi.
Reservations are required. You will find all contact information on the official website.
Another option to take a cooking class on Koh Yao Noi: The Paradise Koh Yao.
The hotel offers classes with its chef. You will have the opportunity to prepare 3 typical Thai dishes. The cost is 950 Bahts per person. You must register at the reception desk one day before.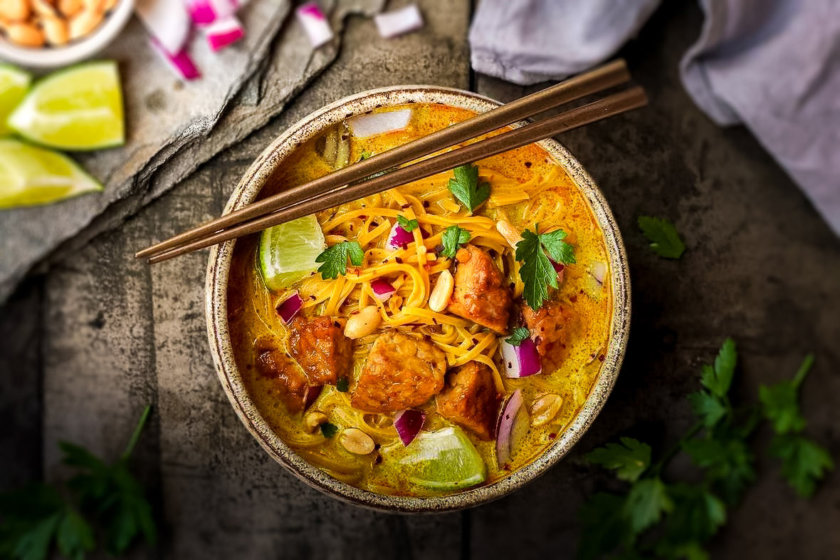 10. Koh Phi Phi
You may be offered a trip to Koh Phi Phi from Koh Yao Noi but I won't recommend it because the island is really far away. And yes only long tail boats go there from Koh Yao Noi, and they are very slow!
For only a day it's really not worth it, you'll practically be in the boat all day.
If you want to visit Koh Phi Phi, it is best to discover it from Phuket for example. There are trips every day, with much faster boats. You will find all the information you need to book your visit here. 

The best things to do around Koh Yao Noi?
Have you travelled around Koh Yao Noi? Enjoyed the beach and taken superb trips to the small islands?
So it's time to continue your trip to Thailand! The 2 most famous and easily accessible places from Koh Yao Noi are Phuket and Krabi. 
11. Phuket
Phuket is just a 30-minute speedboat ride from Koh Yao.
And you can say that the atmosphere is not quite the same. Phuket is the ideal place if you are looking for a lively island where you can easily party every evening.
The only thing it shares with Koh Yao is that it also has superb beaches. Only, you will have to share them with many more people!
Unlike Koh Yao, where there are quite a few rocks under the water + very little seabed, it is also possible to practice a number of water activities such as buoy rides or parasailing.
And like I told you before, staying in Phuket is also super convenient for taking a trip to Koh Phi Phi or the Similan Islands.
To find out more about the best things to do in Phuket, you must read our article: Phuket: the definitive guide.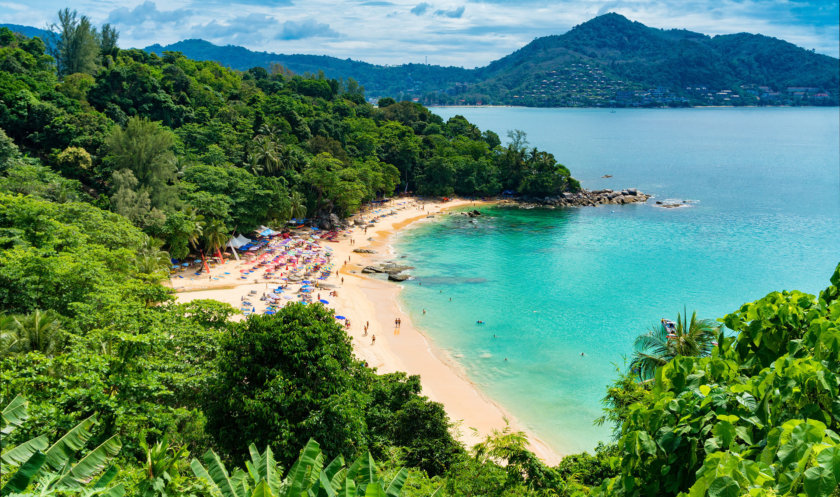 12. Krabi
On the other side of the Andaman Sea from Phuket, you can also go to Krabi.
The region is famous for its karst cliffs and small, very pretty islands with fine sandy beaches and translucent waters.
If you visit Krabi, be sure you visit the Railay beach, accessible by boat from Ao Nang beach (20 km from the centre of Krabi). Although crowded, it is really beautiful.
And lovers of the sport will find more than 700 climbing climbing routes in this small part of Thailand alone.
I have explained all the things you can do in Krabi in our article: What are the things to see in Krabi?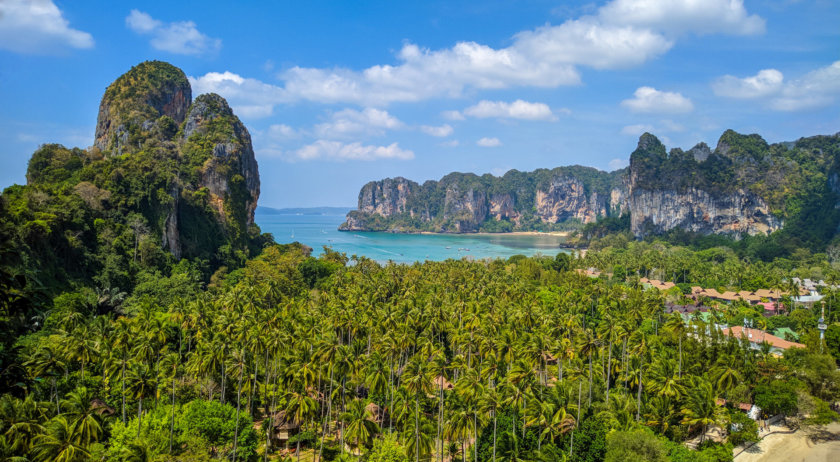 How many days to visit Koh Yao Noi?
To visit Koh Yao Noi, you must have a minimum of 3 days.
But you can of coursestay there for 4 or 5 days or even 1 week to fully enjoy and recharge your batteries.
Visit Koh Yao Noi in 1 day
If you have a day to visit Koh Yao Noi, the best thing to do is to rent a scooter to go around the island.
One day is more than enough to see the most beautiful beaches and stop and take a swim when you feel like it.
Visit Koh Yao Noi in 2 days
If you have 2 days in Koh Yao Noi, you can continue from the schedule for the first day.
On the second day, take a trip to the 4 islands. You won't regret it, I'm sure!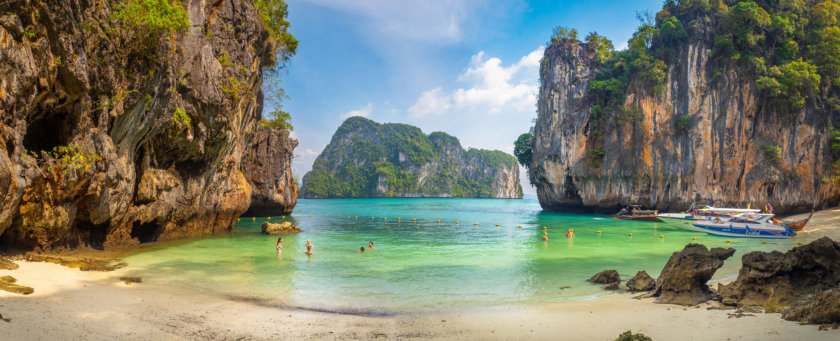 Visit Koh Yao Noi in 3 days
For 3 days in Koh Yao Noi, in addition to the previous 2 days schedule, you will have several different options:
1) Boat trip to James Bond Island and Phang Nga Bay.
2) Take cooking classes in the morning / Rent a kayak in the afternoon (or vice versa)
3) Spend a day in Koh Yao Yai
Visit Koh Yao Noi in 4 or 5 days / 1 week
Are you lucky enough to visit Koh Yao Noi for 4 or 5 daysor even a week?
Then you can split the options offered in Day 3 and you will have enough to keep you busy for at least 7 days!
And when you've had enough, head for Phuket or Krabi.
Where to stay in Koh Yao Noi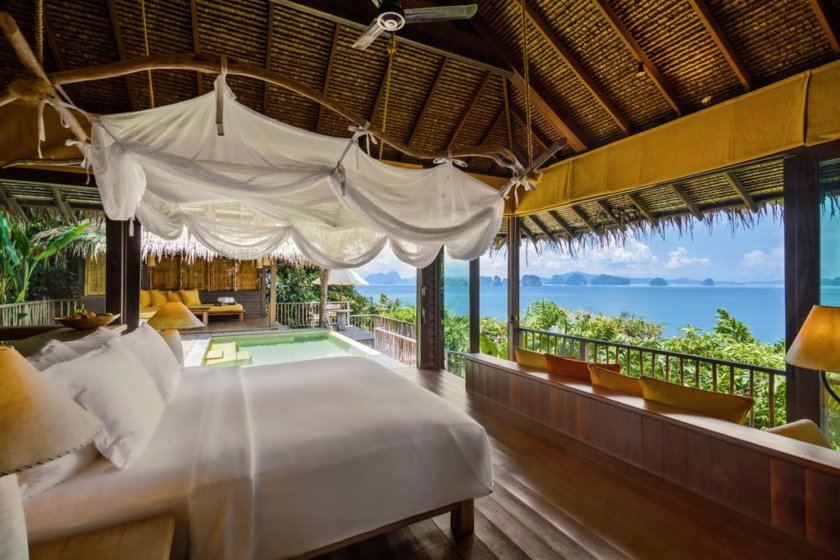 Where to eat in Koh Yao Noi
There are several small bars and restaurants along the road that goes around Koh Yao. Near Pasai beach, you will also find quite a few.
But I don't have any special recommendations because I have to admit that we ate really well every night, no matter where we were!
How to get around Koh Yao Noi
It is very simple, there is only one way to get around Koh Yao Noi: scooters! Rent anywhere on the island for 300 Bahts a day.
And to get from the port to your hotel, you will have to take a Song thaew (public bus). They wait for you on arrival and go around the different hotels. The cost is 100 Bahts per person.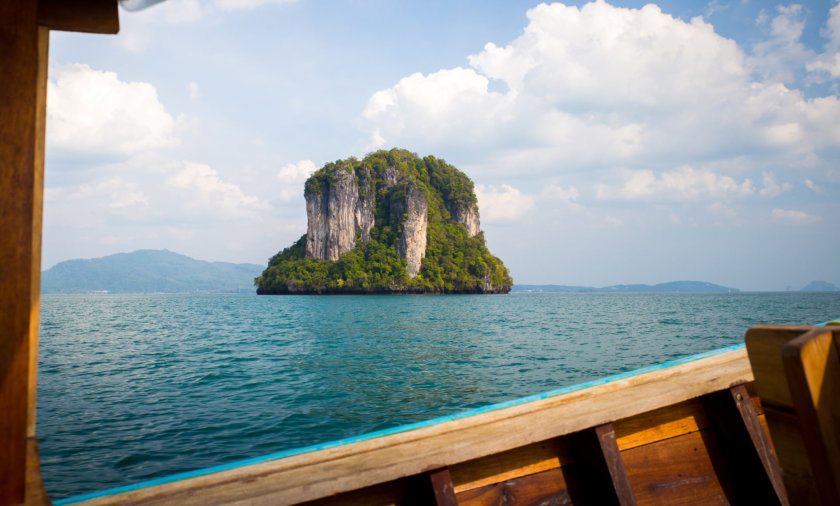 How to go to Koh Yao Noi
Only a boat can get you to Koh Yao Noi. The island has no airport.
From Phuket
To get to Koh Yao Noi from Phuket, you have to take a speed boat to the port of Rang Bang Pier, which is to the north-east of the island. Not to be confused with the port at Phuket Town, which allows you to go on excursions to Koh Phi Phi, for example.
The journey takes about 30 minutes for 300 baht per person + 10 Bahts entrance fee to the port.
If you arrive in Phuket by plane, you will have to take a taxi to the port (about 700 Bahts) and from there take the boat. If you land at the end of the day and there are no boats left, it is best to spend the night in a hotel near the port and leave the next day.
You must stay at the the "Snooze Inn Phuket" hotel which is located just 1 km from the port and offers transport services.
The rooms are spacious, modern and very clean. The evening meal and breakfast served in the owner's restaurant are very good. Price from €29 per night. You can book by clicking here.
From Krabi
Departures to Koh Yao Noi from Krabi are from the port of Tha Len Pier. Koh Yao can also be reached in around 30 minutes for 300 Bahts per person.
From Krabi airport, you have to take a taxi to the port (about 800 baht for 40 minutes).
From Bangkok
Upon arrival in Bangkok, you will have to reach either Phuket or Krabi to go to Koh Yao Noi.
It is best to fly Bangkok-Phuket or Bangkok-Krabi. It is clearly the fastest and tickets prices are generally less than €100 for a round trip.
Otherwise, you can take a bus, which is certainly more economical, but you should expect a 12-hour journey.
Since flight prices for Bangkok vary greatly, it is a good idea to compare them as soon as possible. To do this, you can use our flight comparison tool, in partnership with Skyscanner. You can rest assured that you will get the best rates.
Tourist map of Koh Yao Noi
To help you visualise the town a little better, I made you a tourist map of Koh Yao Noi listing the places to visit that I talk about in this top 12 things to do in Koh Yao Noi and nearby. You can display the map legend by clicking the button at the top left with a small arrow.
Are you planning to visit Koh Yao Noi? If you have any questions about the things to do and places to stay, please feel free to ask me in the comments below.
Book your trip now and save money!
Thailand travel Guides
You're traveling to Thailand? These articles will help you!
Discover all my articles about Thailand: All my articles to help you plan your trip to Thailand are listed there.
The 25 Best Things to Do in Thailand
You're using Pinterest? Here is the picture to pin!