How to spend 2 Days in Santorini: The Best Itinerary + Where to Stay
You're planning to spend 2 days in Santorini and you're looking for the best things to do?

You're at the right place!
In order to help you plan your stay, I have prepared for you this 2-day itinerary in Santorini.
During your trip, you will discover all must-see attractions of the island such as the beautiful towns of Fira and Oia or the Caldera, during a fantastic boat trip.

In addition to the best places to visit and activities for each stage of your itinerary, I will also give you all my best tips and accommodation suggestions depending on your budget.
So, what are the best places to visit in Santorini in 2 days? Where to stay?

Let's find out!
Santorini in 2 Days: My Best Tips
Book your ferry crossing
Most people prefer to take the boat to get to Santorini.
There are regular ferries for crossing from Athens or the other islands of the Cyclades such as Amorgos, Naxos or Paros. Prices vary greatly depending on the size of the boat (and therefore its speed) and the time.
I recommend that you book your ferry trip to Santorini as soon as possible to choose the time that suits you best.
Especially since it is really more practical to do it online: avoid queuing at the port counter and you won't encounter any translation problems (if you don't speak Greek well).
By clicking on the green button below, you will have direct access to all prices and time-slots to start organising your week-end in Santorini:
Voyage Tips - Advice
The port of Santorini is about ten kilometres away from Fira, one of the island's 2 iconic villages. To reach there, you can take the bus, taxi or car (see the section on car rental).
For other destinations on the island, there won't necessarily be public transport, but most hotels offer shuttles for free or for an additional charge.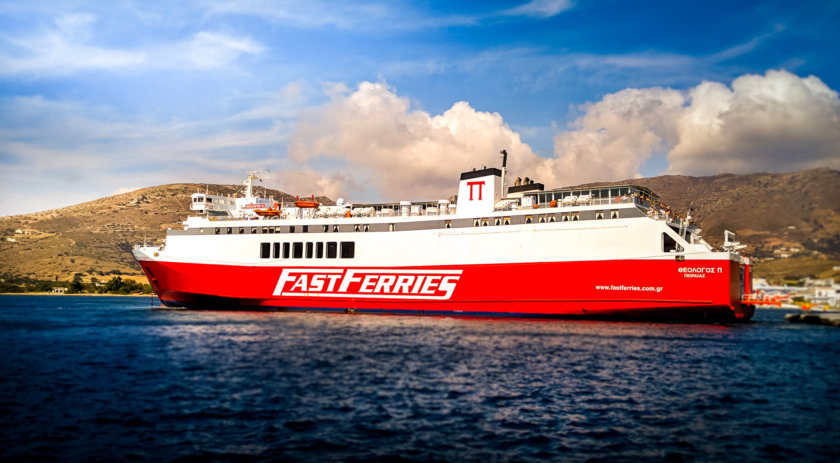 Go to Santorini for a week-end: flight prices
As Santorini's tourist activity is highly developed and the island receives thousands of visitors a day, it has a well-connected international airport.
And contrary to what you might think, it won't necessarily cost you more to fly than to take a boat! Not to mention that a short stay can save you a lot of time. 
The prices of flights to Santorini vary greatly, it is a good idea to compare them as soon as possible. To do this, you can use our flight comparison tool, in partnership with Skyscanner. It is the assurance of getting the best price.
Do not hesitate to enter the dates of your 2-day trip in Santorini and your departure airport to see the timings and prices.
Voyage Tips - Advice
Just like the port, from the airport you can easily and quickly get to Fira by bus. Taxis and car rentals are also available.
Ask your hotel if there is a shuttle service available for the other villages. Otherwise, you will have to use a taxi or car for those 48 h in Santorini.
2 days in Santorini by car?
For this 2-day itinerary in Santorini, you can rent a car upon arrival at the port or airport.
All the local and international rental rates are available on Rentalcars.com. With just one click, you can directly compare them and book your car.
Here too, it is best to get things done early, as there aren't hundreds of cars available. There is no risk as the modification or cancellation is free. 
You can rent a car for your 2-day trip to Santorini by clicking here:
Even if the island is not necessarily very big, it can be a bit difficult to get around by public transport as not all the villages or beaches are connected to each other.
Not to mention that in the high season (July-August), the buses are crowded and will not stop to pick you up if there is no space. So there's a good chance that you'll find yourself waiting more than an hour (and I'm being optimistic here…) in the hot sun.
This is even more true for the line connecting the 2 iconic villages: Fira and Oia.
You can also rent scooters or quad bikes on the island.
Voyage Tips - Advice
For the 2-day tour in Santorini that I propose just below, you don't necessarily need to rent a car for the first day.
For the second day, I have suggestedseveral options for you depending on whether you rent a car or not.
One last thing: renting a car for these 2 days is not necessarily more expensive than making more trips by taxi. Especially considering that parking is free of charge. 
One Last Tip for a Perfect 2-Day Stay in Santorini
If you already know your travel dates (or as soon as you will have them!), you should really book your accommodation.
As Santorini is one of the most touristic places in the world, the hotels offering the best value for money are often fully booked months in advance.
As a seasoned traveler, I can assure you that it's always by planning as far in advance as possible that I've found the best hotels or apartments deals.
You agree that it would be a shame to somewhat ruin your stay in Santorini by ending up in a not-so-great hotel that costed you a fortune, right? 😅
So your best bet is to take 5 minutes now to have a look at traveler's favorite hotels in Santorini.
And if you like one of the hotels you find, book it!
It's fast, it's easy and most accommodation offer free cancellation. That's the best way to protect yourself from the inconvenience of finding nothing but mediocre rooms at exorbitant prices.
To check the best hotels deals in Santorini, simply click on the green button below:
After securing your dream stay, it's time to continue reading this guide!
Visit Santorini in 2 days: the best route
Now that you know how to come to the island and get around during this week-end, I propose you to take a look at my itinerary to spend 2 days in Santorini.
I have prepared this itinerary for you to spend 2 full days in Santorini.
If you still have questions about organising your holiday after reading it, please feel free to ask me your questions in the comments section at the very end of the article.
So, what are the best things to do in Santorini in 2 days?
Day 1 of this itinerary in Santorini – The iconic villages
A: Visit to Fira
In the list of must-see places during your 2-day trip to Santorini, I recommend you start by visiting Fira.
This iconic village of Santorini located at the edge of the caldera offers a real picture-postcard landscape and an excellent start to your dream week-end!
Stroll through the cobbled streets lined with white houses, chic boutiques and luxury hotels with an infinity pool! And open your eyes wide to enjoy the exceptional view.
It is impossible to not surrender to the charm of the most famous island of the Cyclades!
From the top of the village, you can also take the stairs or the cable car that goes down to the old port of Santorini (still used to disembark passengers from cruises).
Go back and forth (around 12 Euros) to admire the village from another angle.
If you are interested in the history and the various archaeological remains found on the island, I also suggest you visit:
The prehistoric Thera museum where you can find the remains discovered on the site of Akrotiri
The archaeological museum with many elements from Akrotiri as well as from Ancient Thera.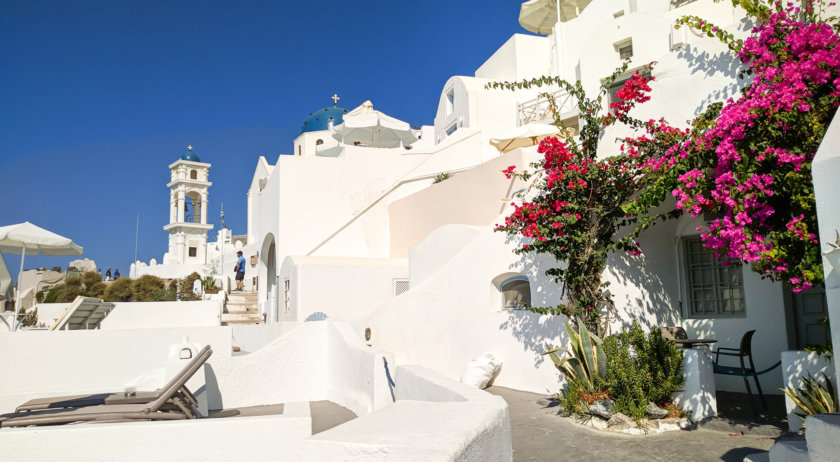 B: Hiking from Fira to Oia
Once you have finished going through the narrow streets of Fira, I suggest you continue your 2-day stay in Santorini with a short hike.
At the end of the village, continue to follow the path that goes along the top of the cliff and first reaches Firostefani (10-minutes walk) and then Imerovigli (another 20 minutes).
I am giving you a rough idea about the walking time as it is without considering the multiple photo stops! ☺️
Starting from the village of Imerovigli, the mythical trail of Santorini begins. It is 9 km long and takes you to the village of Oia, a 2-hour walk away.
The views are spectacular all along the walk, especially before you arrive at Oia. Magnificent photos guaranteed!
The trail is not really difficult but you still have to be wearing proper shoes (no flip-flops) and bring water and a hat because it's quite sunny.
Voyage Tips - Advice
If you don't want to go for the whole walk, I recommend you do the small portion to Imerovigli. It would be a real shame to miss the landscape!
In this case, to reach Oia from Fira, you can then take the bus or taxi, if you have not rented a car.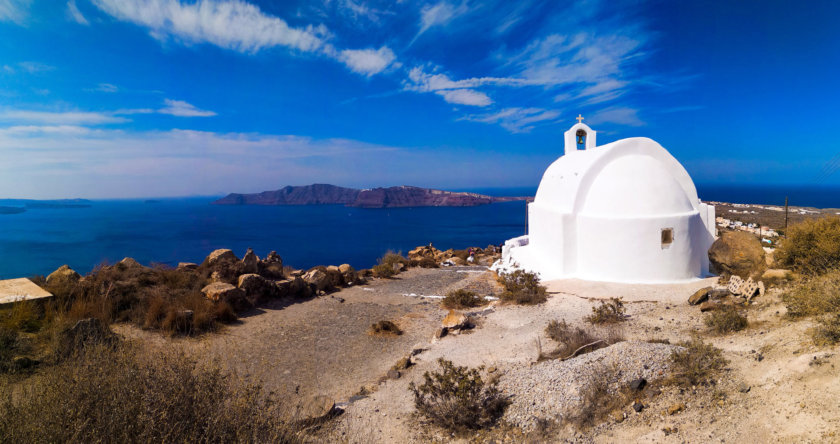 C: Walk to Oia
Once you arrive in Oia, you can make the most of your week-end in Santorini to visit the island's 2nd best-known village.
Have you ever seen pictures of Santorini taken at the time of sunset? Well, that's Oia!
In the late afternoon, visitors flock to the village to find the best spot to watch the show.
For me the ideal place is located at the ruins of the ancient Byzantine castle (see on the map at the very end of the article) but it is better to arrive at least 1 hour before to get a good seat.
If your budget is a little bigger or want a more romantic and chic atmosphere, you can also book a table in one of the bars with a view. But you will have to commit to a minimum per person (which is not very difficult considering the price of the cocktails!).
Spend the night at one of Santorini's hotels. Below you will find my selection of the best accommodations on the island.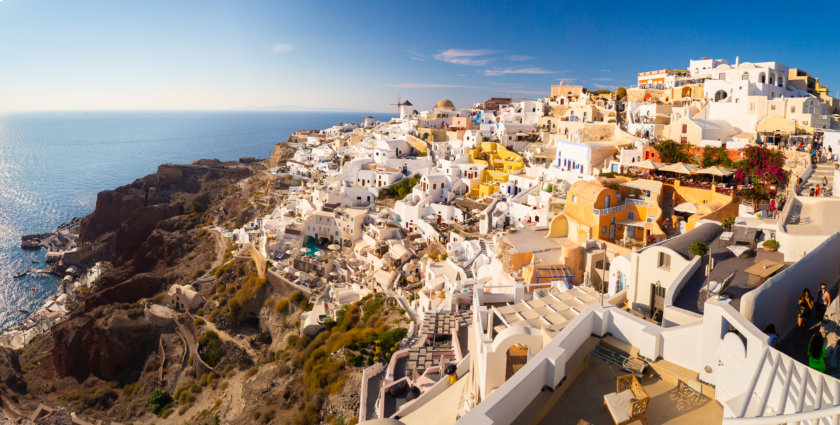 Day 2 of your week-end in Santorini: the best things to do and see
For the second day of this 2-day Santorini trip, I suggest several options. Choose according to your interests and/or your means of transport.
Option 1 – Boat trip around Santorini
It is certainly the most famous activity to do when spending 2 days in Santorini: a boat trip.
The most popular is the one that takes you to discover the volcanic islands and hot springs.
There is a stop to climb to the top of the volcano of Nea Kamini that is still active. Then, to recover from the stress, you can splash about in the hot springs of Palea Kameni.
On the way back, there is a last stop at the island located opposite Santorini: Thirassia. 
The day trip is really well organised and includes pick-up from your hotel, audio commentary, boat ride and all the stops as well as swimming.
For this day, I highly recommend that you book in advance to make sure you have a seat. You can directlyclick the following green button:
As I told you, these mini-cruises are very popular. If you wish, there is a more luxurious option that caters to a smaller group of people.
Rides take place aboard a catamaran and include bathing stops with snorkelling equipment being provided.
Here too, you will be picked up directly in front of your hotel and the day also includes a barbecue and all-you-can-drink drinks.
Another advantage of this sea outing: departure is later to enjoy the sunset from the sea.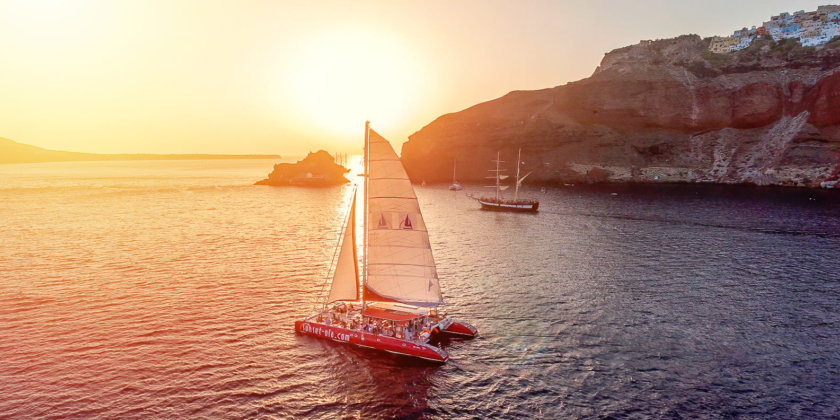 Finally, if you really want to spend some quiet time, I recommend you opt for the luxury catamaran ride.
It's exactly the same as the ride I've just mentioned, but just a more upscale version with a beautiful boat that can accommodate only a maximum of about twenty people and serves a more elaborate meal.
This boat trip is so good that it is "GetYourGuide Originals" certified, which means that it is satisfied or reimbursed!
Do not wait any longer and book this super activity that you absolutely must do when you have 2 days to spend in Santorini: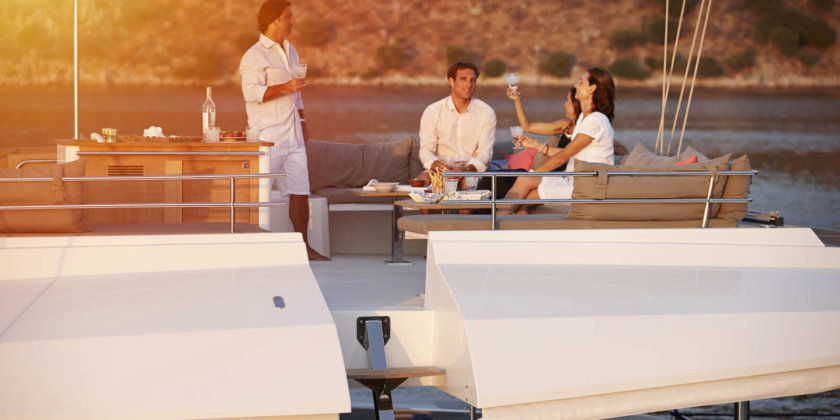 Option 2 – Tour of the island in road trip mode
For this other option of your 2-day itinerary in Santorini, it is imperative to have a vehicle because I suggest you go around the island.
Here are all the things to do on the day's programme:
Visit the small typical villages of Pyrgos, Megalochori and Emporio.
Discover one of the island's 2 archaeological sites: Akrotiri or Ancient Thera.
Spend some time at the beach. The Red Beach and its ochre cliffs or the beaches of Kamari and Perissa, renowned for their sand of volcanic origin, are the best known.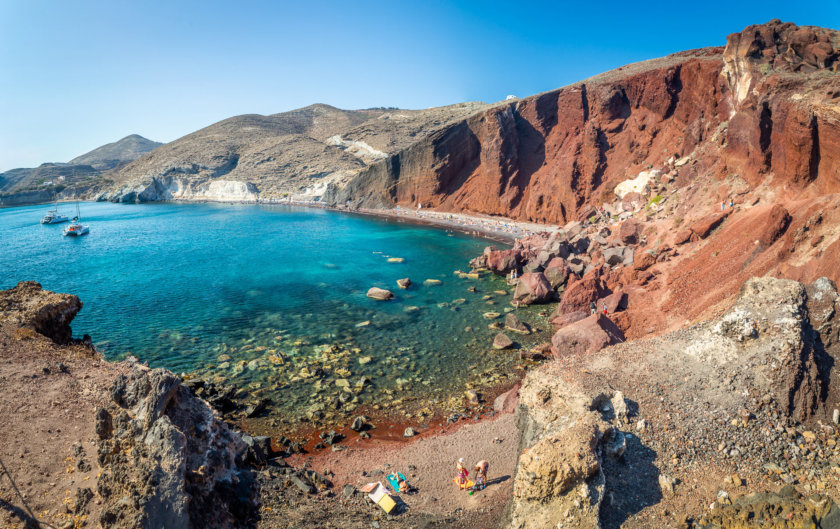 Option 3 – Other organised tours
In case you don't want to rent a car or a scooter and you're not interested in a boat ride, you can also opt for a 1-day organised tour to visit Santorini.
I have selected 3 that may interest you:
1) A bus trip with a guided tour in English.
The trip is very comprehensive and covers Akrotiri, Red Beach and the village of Emporio. You can also swim at Perissa and take part in a wine tasting.
It covers many of the places I recommend in option 2, for the trip in Santorini by car. It is therefore an excellent choice for your 2-days stay in Santorini.
Book this trip for your week-end in Santorini directly with the button below::
2) A private 6-hour tour.
Here you can choose the places you want to see. The itinerary is flexible and customisable. Your guide will adapt as per your preferences.
3) An oenological visit
Santorini has many vineyards producing one of Greece's most famous wines. 
This visit of about 5 hours allows to discover some of them and specially to participate in several tasting sessions. You will have the chance to taste a dozen wines including Vin santo and Nykteri, the traditional wines of the island.
This visit is semi-private with a maximum of 8 persons and includes hotel pick-up, a specialised wine guide and tasting sessions.
Reserve using the following button:


Where to stay in Santorini?
I have to admit that to sleep in Oia or Fira, which are located on the caldera's edge, you have to plan a fairly high budget. The hotels are certainly splendid and the prices are such owing to their exceptional location!
If you have a smaller budget, I advise you to choose an accommodation located a little further away from the 2 main villages.
In any case, it is best you do all your bookings as early as possible!
To help you, I have prepared a selection of the best hotels according to location and for all budgets.
Best hotels in Oia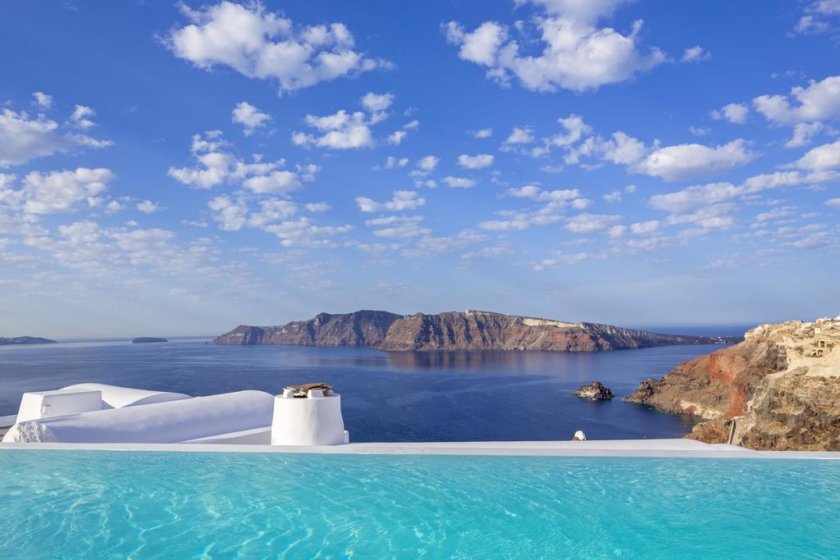 Best hotels in Fira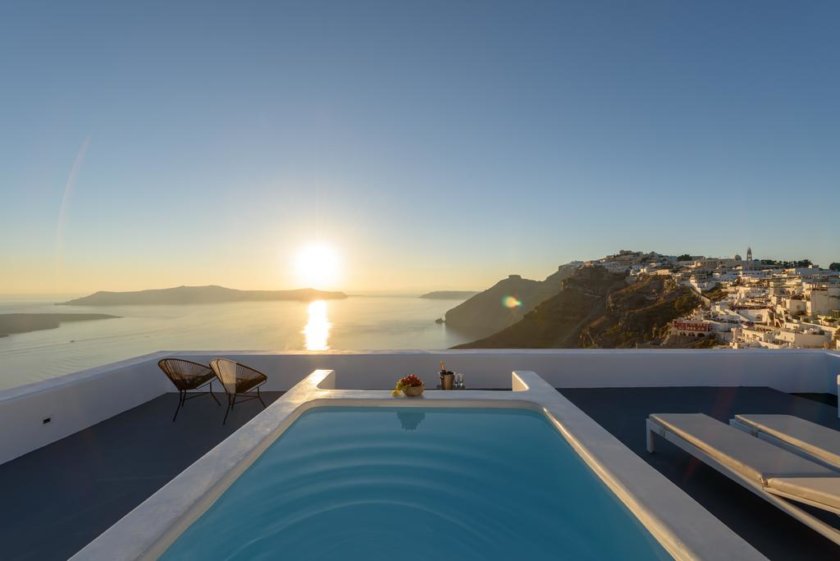 Other best places to stay in Santorini island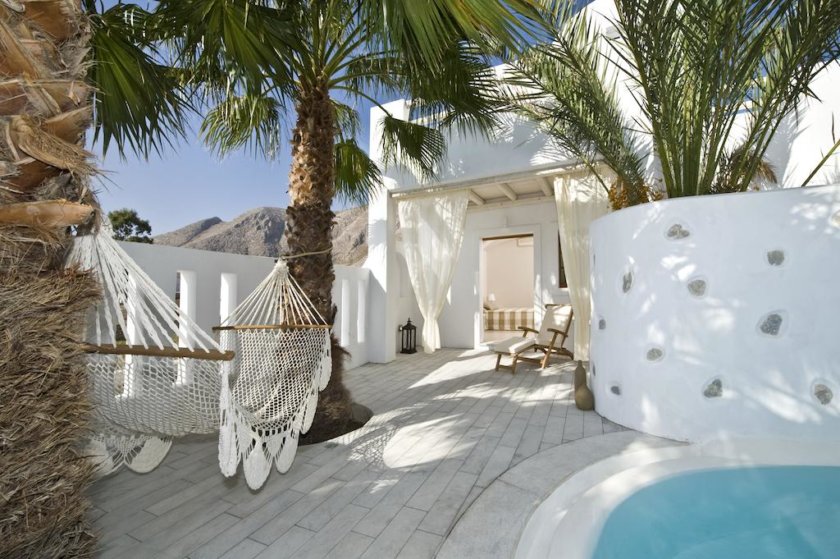 More things to do and see in Santorini in 2 days
I gave you a lot of suggestions and options for a 2-days visit to Santorini but you can also make your own programme.
You will find even more things to do during your week-end in Santorini in my other article: The 17 best things to do in Santorini.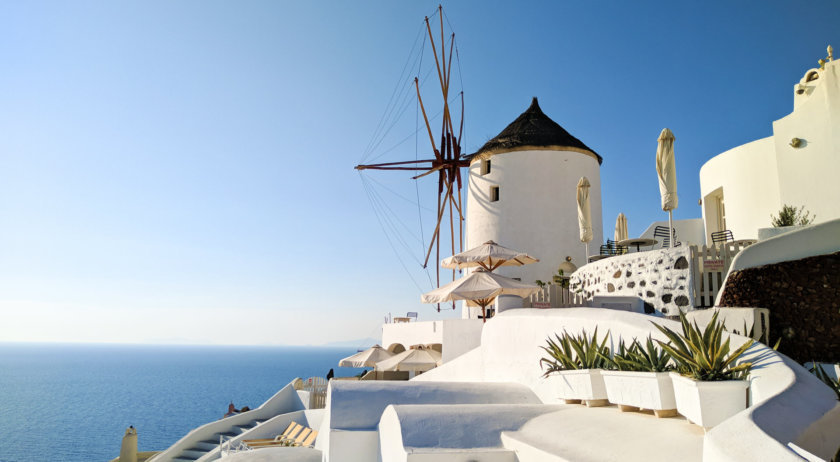 Where to go after your week-end in Santorini?
Do you want to continue your trip to Greece after these 2 days in Santorini?
Why not choose another island of the Cyclades?
To help you decide which one best fits your interests, please read my article: The best things to do in the Cyclades
I have also written other detailed articles about the main islands:
And to create a little tour in Greece for a week or more, I recommend you take inspiration from my different itineraries: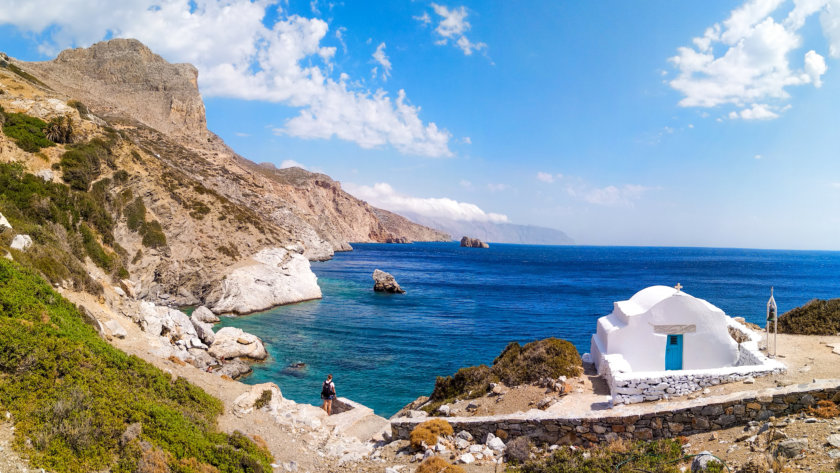 Rent a boat in Santorini
If you want to rent a boat for a nice day at sea during your stay in Santorini, you should book it with Samboat.
Motorboats, sailboats, yachts, small boats without a license, with or without a skipper: they simply have the most complete offer for boat rental!
So, what are you waiting for to book your boat trip in Santorini? 😊
Map of your 2-day itinerary in Santorini
To help you visualise your itineraries during your 2 days in Santorini, I have created a map for you listing the places to visit each day. You can display the map legend by clicking the button on the top left with a small arrow.
You will then be able to view the itineraries for each day.
Do you need help in organising your 2-day itinerary in Santorini? Feel free to ask me any questions you may have in the comments section.
Book your trip now and save money!
Greece travel guides
You're traveling to Greece ? These articles will help you !
Discover all my articles about Greece: All my articles to help you plan your trip to Greece are listed there.
Cyclades (Greek islands)
Dodecanese
You're using Pinterest? Here is the picture to pin!